The Hillel Yaffe Medical Center is the first government hospital to introduce the new SMARTER system, which was developed by the Howazit company, after the hospital joined forces with the Israel Innovation Institute as part of the structural and service upgrade of the Emergency Medicine Department. The Friends of Hillel Yaffe Medical Center were partners in the process, and helped raise money for the current expansion and upgrading of the infrastructure of the current Emergency Room, which was finished last December.
It works like this
After the patient is registered in the Emergency Room reception office, he is given a direct link to his mobile phone, which, when activated, updates every time a treatment stage ends in the Emergency Room.
"Of course, this doesn't make it redundant that the staff also provides direct updates to the patient during the treatment itself," notes Director of the Emergency Medicine Department, Dr. Jalal Ashkar, "but the goal is to reduce the sense of uncertainty which often accompanies those arriving in the Emergency Room. Let's not forget that people arriving at the Emergency Room are in a physical state which causes them to be very anxious about themselves. Our role is to provide both professional treatment, but also service, which includes an emotional element. The idea behind the system is to provide additional support."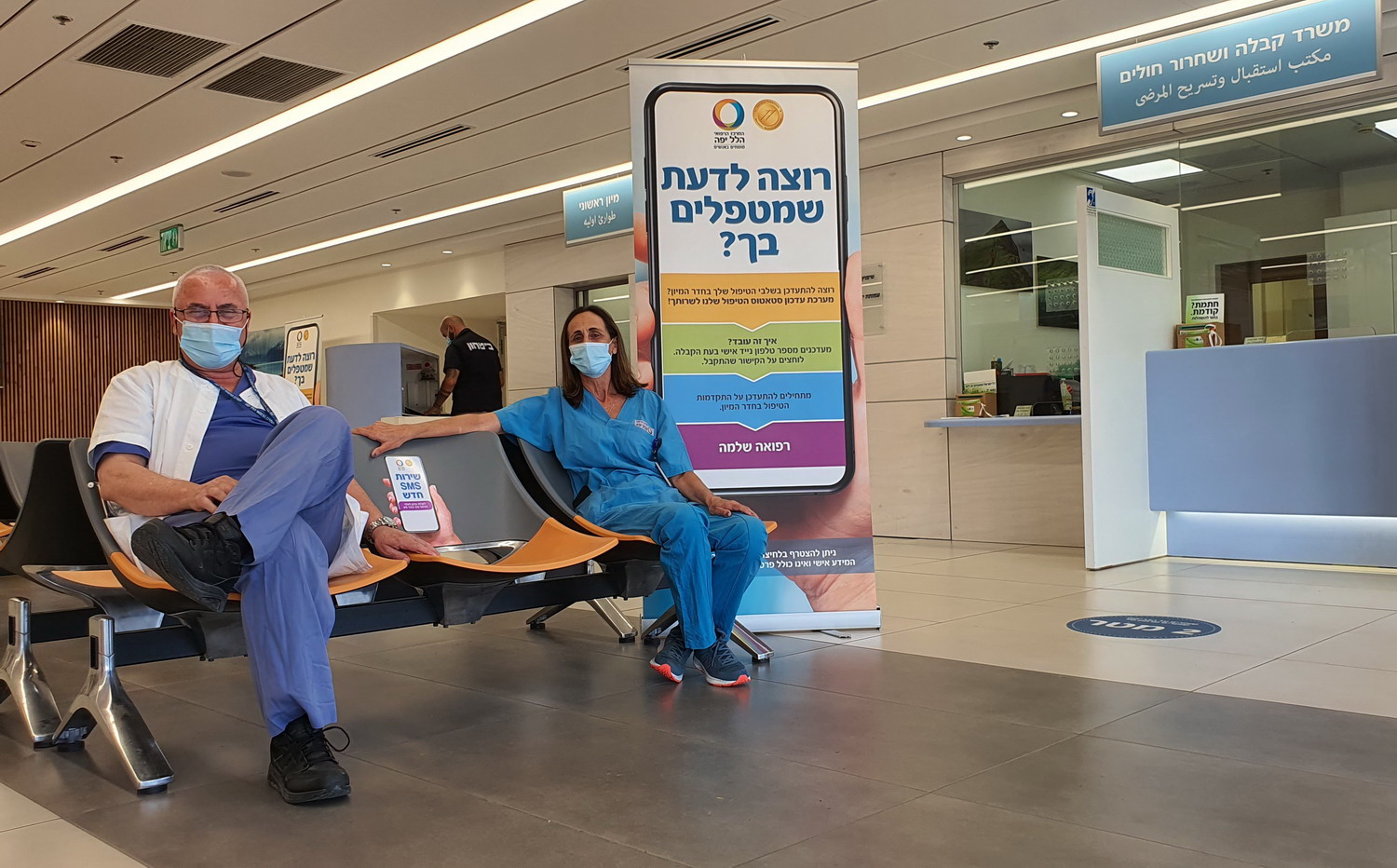 Director of the Emergency Medicine Department at Hillel Yaffe, Dr. Jalal Ashkar and Head Nurse, Mira Libel, at the entrance to the Hillel Yaffe Emergency Room
Ongoing digital support, service by people
After clicking on the link received on the mobile phone, the system creates a personal computerized number, which becomes the patient's "personal guide" in the system. The system creates a kind of automatic list of things which the patient will undergo in the Emergency Room, and at the end of each stage or when the test results arrive, the item on the list will be checked off or a notification will appear, explaining the next stage. For example, an SMS will be received regarding treatment having ended in the Emergency Room, including an update whether the person will be released or hospitalized, a map showing their whereabouts, and information about the department to which the person will be admitted.
At each stage, the system will provide information to the patients regarding what they are doing in real time. To maintain patient confidentiality, the link to the system will only be for a limited time. Likewise, the information provided will not be enough to violate medical confidentiality in any form.
The system is user friendly and simple, does not require any prior installation, and is aimed at enhancing a person's personal sense of security. Together with a professional and experienced staff, who will continue to provide the best possible service, it is an excellent tool for improving the patient experience in yet another way.