69-year-old Meir Jungreis from Kfar Saba visited the Dor Beach the Friday before last with his son Yuval, to surf on a SUP. Meir went into the sea to surf, and his son Yuval stayed on the beach. When he couldn't see his father, he went into the sea and found him unconscious. He quickly pulled him out onto the beach and began resuscitation attempts. The paramedic on the Dor Beach, Omer Darvish, saw and immediately came to help, equipped with an automatic defibrillator, which identified potentially fatal cardiac arrhythmia and delivered an electric shock. Meir was evacuated to the Hillel Yaffe Medical Center in critical condition, sedated and intubated. In the Emergency Room, he was examined and treated by Dr. Elias Hellou, a doctor in the Cardiology Division, and hospitalized in the Intensive Coronary Care Unit. After a day and a half of intensive treatment in the unit, he regained full consciousness and was able to breathe on his own.
The next day, Omer, the paramedic who had saved his life, came to visit him in the hospital, who related emotionally: "When I saw Yuval resuscitating his father, I understood that, as far as I could see, Meir had had a heart attack. I connected him to the automatic defibrillator, which identified cardiac arrhythmia and Meir needed electric shock treatment. Until he was taken to the hospital, we unceasingly continued our resuscitation attempts and I am glad that we managed to save him."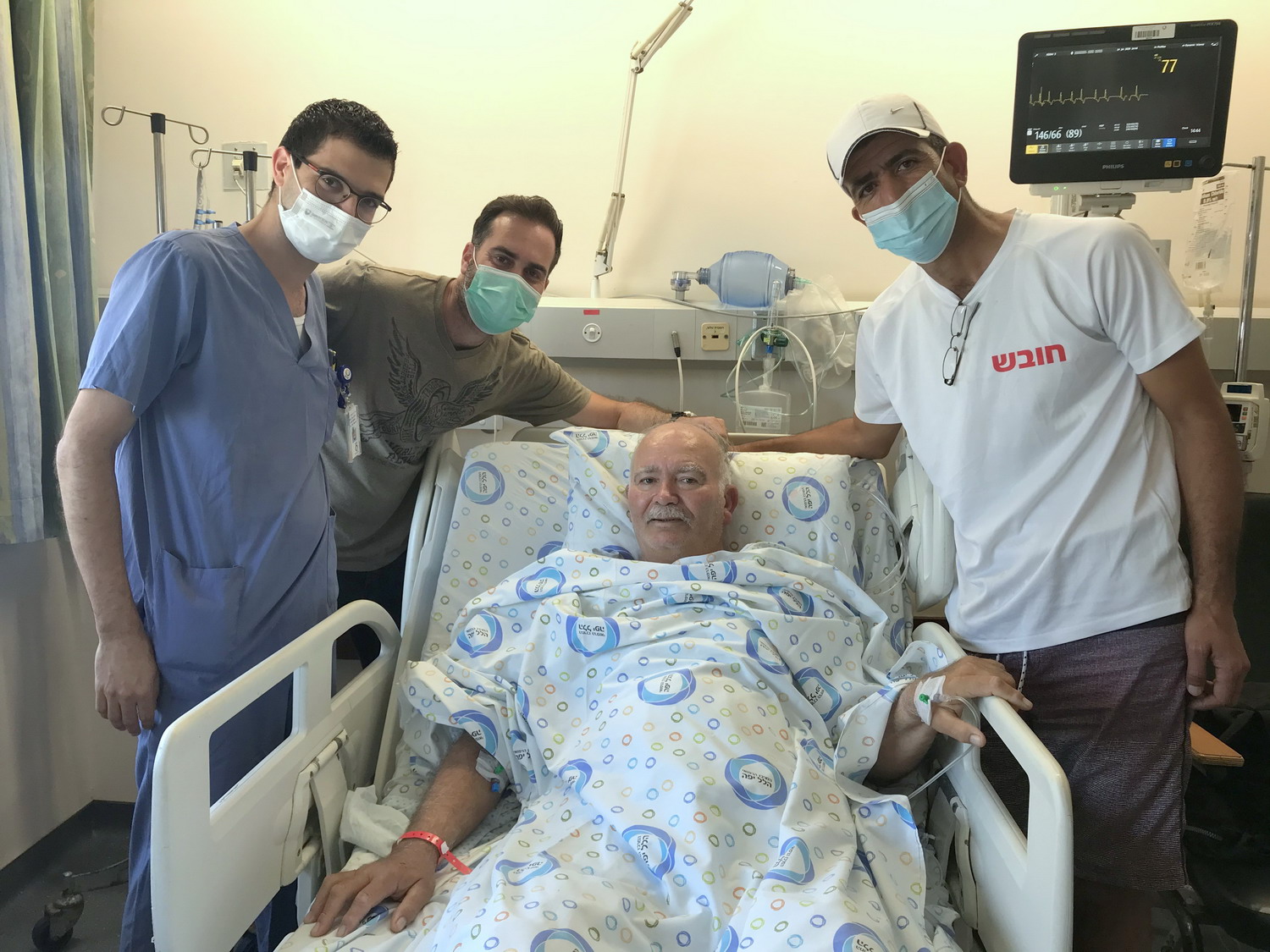 Meir Jungreis with Dr. Elias Hellou, his son Omer and the paramedic Omer Darvish
Dr. Elias Hellou, the doctor who treated Meir when he arrived in the hospital, added: "Meir arrived in critical condition, after having suffered from a heart attack and cardiac arrest and having undergone resuscitation, with his being sedated and intubated. He was transferred to the Intensive Coronary Care Unit, where he was treated with hyperthermia protocol, in which the body temperature is lowered to maintain neurological activity. After a day and a half of vigilant and dedicated observation, he woke up and regained full consciousness, without any neurological damage. Without a doubt the resuscitation attempts performed before he reached us were critical to saving him, and allowed us to give him the very best treatment."
Meir was very excited to see Omer and Dr. Hellou, and thanked them for the devoted care which saved his life. He feels good, is recovering surprisingly well, and has already been released to his home.
Prof. Ariel Rogen, Director of the Hillel Yaffe Cardiac Division, noted: "Without a doubt, this is a medical miracle. I have encountered few incidents during my professional life in which someone regained consciousness after more than 45 minutes of resuscitation, particularly in light of the fact that he has not sustained any neurological damage or harm to the functioning of his heart muscle. Without the immediate resuscitation attempts and the fast electric shock treatment, it is doubtful whether Meir would have survived. Time is a critical component, since every moment during which the heart stops and no resuscitation attempts are made significantly reduces the chances of survival. It is very important that automatic defibrillators are found in public places, and it is important for the public to know how to operate them in cases like this."