Moran Malul from Pardes Hanna-Karkur will never forget this birth. In her 29th week of pregnancy, she began to bleed spontaneously. She arrived at the Delivery Room at the Hillel Yaffe Medical Center, where the staff decided to hospitalize her for observation. On getting out of bed, she saw increased hemorrhaging which did not stop, and she called the nurses. Gila Pinhas and Tiki Hen, veteran midwives at Hillel Yaffe, immediately understood that Moran was in serious condition and urgently summoned the doctors.
Moran had had two previous pregnancies, which ended in caesarean sections, and had been diagnosed during this pregnancy as having placenta previa-accreta. In this condition, the placenta blocks the womb since it is in its lower part, and has also grown too deeply into the uterine wall and cannot separate from it. This is a rare condition which makes the pregnancy high risk, since it can lead to significant bleeding and a life-threatening situation.
Moran was urgently brought for an emergency caesarean section, with midwives Gila and Tiki accompanying her and calming her down the whole time. At the same time, a team of doctors which included gynecologists, urologists, and anesthetists, was summoned to the surgery, led by Dr. Ilan Bruchim, Director of the Gynecology and Gynecologic Oncology Department. Later, the Director of Gynecology and Obstetrics Department, Prof. Motti Hallak, was also present in the operating room.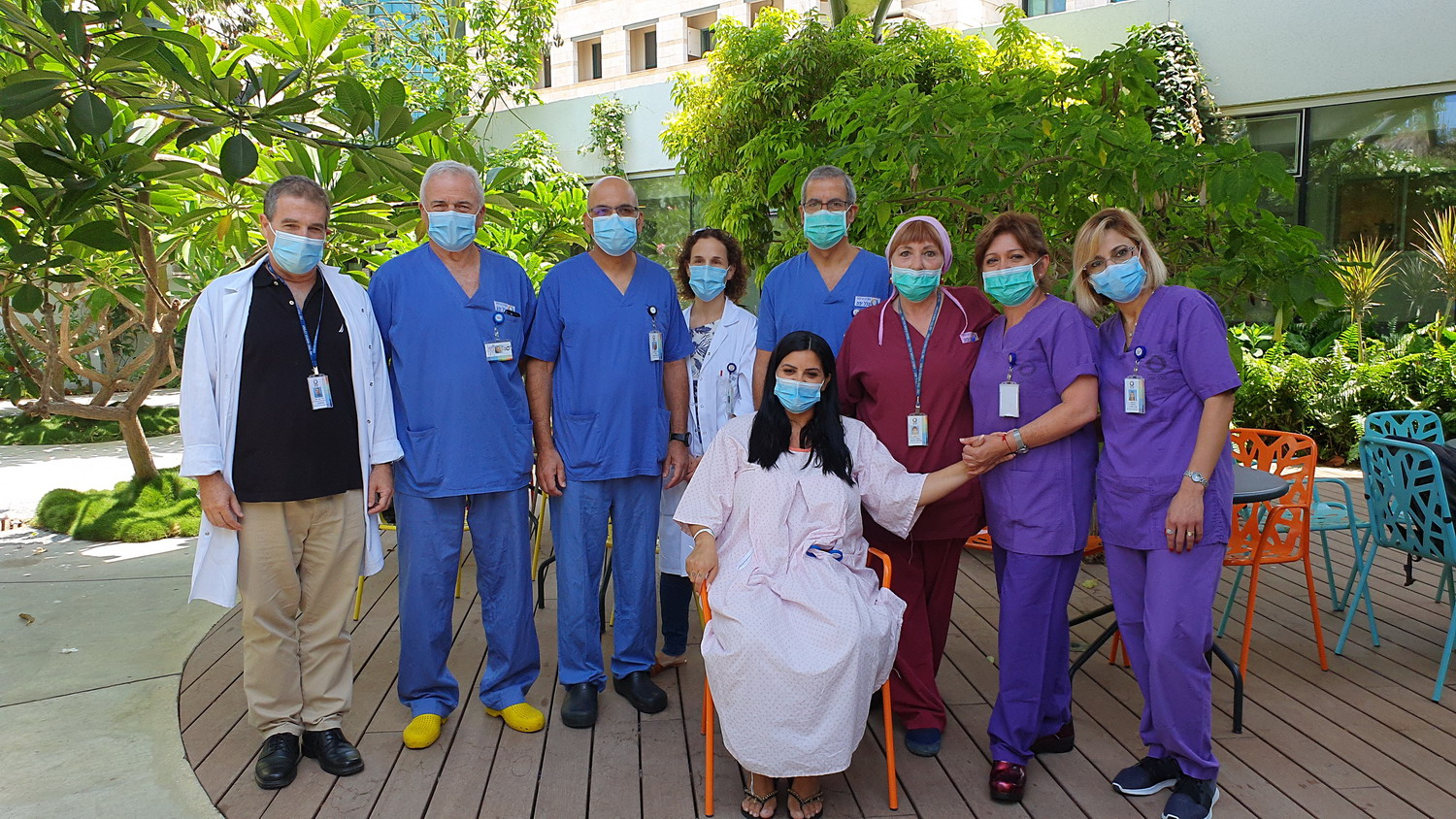 Moran Malul with some of the team of experts who treated her (right to left): Midwives Tiki Hen and Gila Pinhas, anesthetist Dr. Nelly Pollak, gynecology team Prof. Motti Hallak, Dr. Livna Shafat Heller, Dr. Ilan Bruchim, and Dr. Shmuel Anderman, and urologist Dr. Ronen Rub.
During the complex surgery, the team of doctors diagnosed that the placenta had grown into the uterine wall and even reached the bladder, making it necessary to perform a hysterectomy and cervicectomy. Moran was in a state of hypovolemic shock, after losing vast quantities of blood, and she was transferred to the Intensive Care Unit. Three days later, she recovered and was transferred to the Maternity Ward.
Now, having recovered, Moran is hospitalized in the Maternity Department, and is expected to be released within the next few days. Her infant daughter, who was born, as noted, in the 29th week of pregnancy, with a birthweight of 1.810 kg, is being treated in the Neonatal Care Department. "I was at death's door," says Moran, "when the hemorrhaging became more severe, I was really nervous to be taken into the operating room. Midwives Gila and Tiki are simply angels. They were with me and calmed me down. I have no words to thank the devoted medical staff, who saved my life. I am so grateful to everyone for the treatment and concern, and I am waiting to go home already together with my daughter."