In the photographs from after the birth, they are already smiling, but the tiredness in the eyes of Suf and Hen Cohen from Hadera reveals a story of a particularly rough birth. Their first daughter was born the night of Rosh Hashana 5781 – an indisputably special date, but her birth was unexpectedly turbulent.
Suf relates: "I had a perfect pregnancy, which gave me a hankering for another one. My original due date was September 15, but I began week 40. On Friday morning we came to the Emergency Room with contractions. I was taken into the Delivery Room, and at 10 a.m. I already had a dilation of "four fingers". After being given an epidural, several more hours passed, and when Moran – the midwife who had received me – was about to end her shift, I was fully dilated. The new midwife, Sophie Goleiv, arrived already and I continued pushing. A few minutes later, and even though I was fully dilated, Sophie suddenly jumped in my direction, grabbed underneath my belly, and immediately called out to everyone in the corridor. It was later explained to me that my daughter's heartbeat had begun to drop because she was in a state of umbilical cord prolapse. From just me, my husband, and the midwife being in the room, suddenly there were loads of staff surrounding me who took me in at breakneck speed for emergency surgery."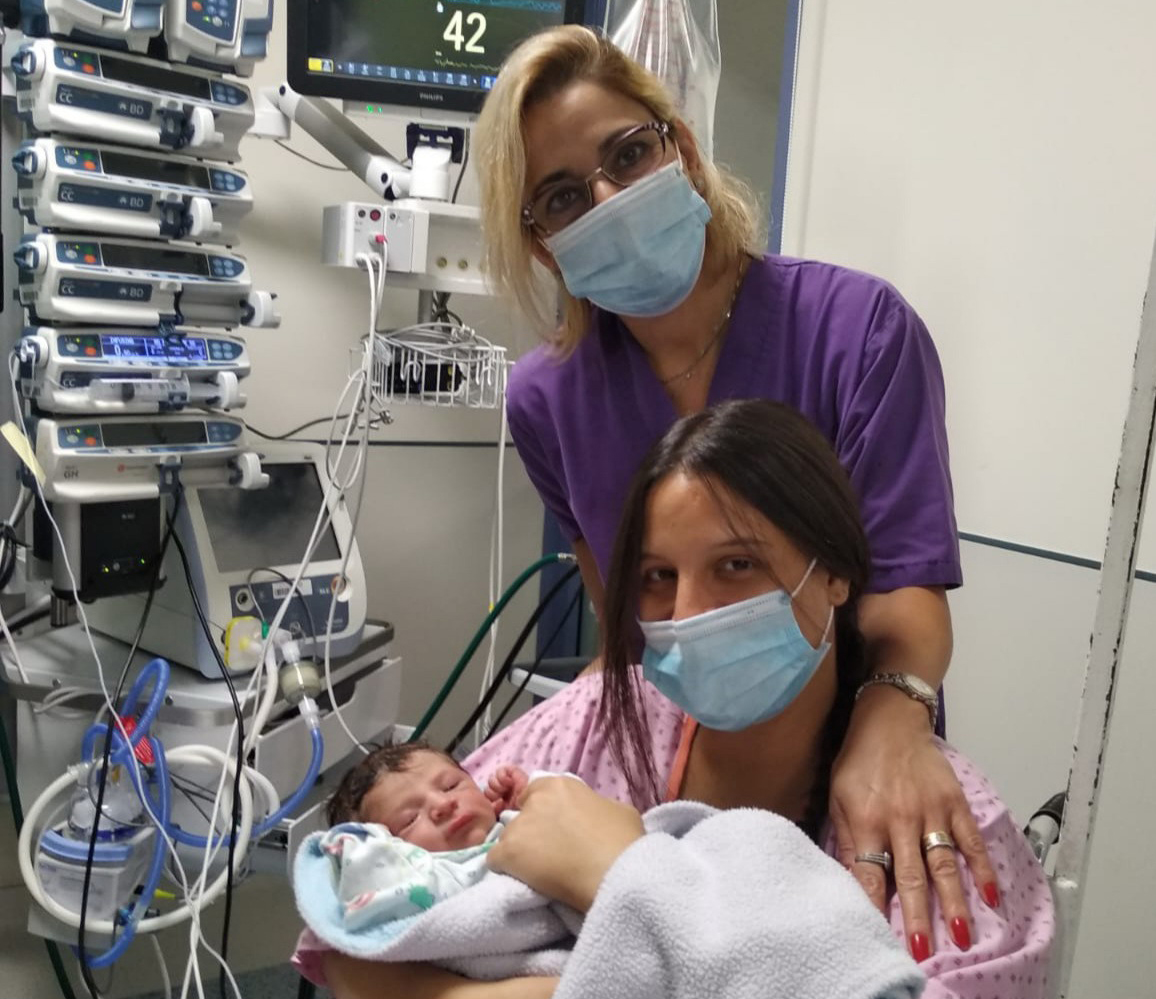 Suf Cohen and her firstborn daughter, with midwife Tiki, in the Hillel Yaffe Medical Center Neonatal Care Department
All's well that ends well. During surgery, carried out by the expert hands of Dr. Nardin Assala and Dr. Rawan Daher, Suf gave birth to a sweet and healthy baby girl at 11:25 p.m. weighing 2.880 kilogram, just in time to receive the new year of 5781, and after we had all finished the last songs of the holiday meal. The baby was transferred for further treatment in the Neonatal Care Department, and the mother was taken to recover on the Maternity Ward. Their first official meeting, with the baby being held by her mother, was celebrated in the Neonatal Care Department, with Suf being accompanied by Tiki Hen, one of the Hillel Yaffe Delivery Room midwives.
Dr. Nardin Assala explains that umbilical cord prolapse is a life-threatening situation – the umbilical cord precedes the head and compromises blood flow to the fetus. "The quick action taken by Sophie, the midwife, who identified the situation in the Delivery Room – she basically pushed the fetus back inside and held her in until we reached the operating room, was so she wouldn't suffer from oxygen deprivation. There we got her out with a caesarean section. This was undoubtedly a turbulent birth, which I am delighted to say ended in the most positive and joyous way possible."