During his visit, Prof. Gamzu heard from the Director of Hillel Yaffe Medical Center, Dr. Mickey Dudkiewicz, about the overload and high occupancy rates in the hospital in both the wards designated for those testing positive to coronavirus (COVID-19) and in general, as they appear in the national reports published daily. Prof. Gamzu toured the hospital, including the dedicated area for women suspected of having coronavirus needing gynecological and obstetric care and the Infectious Diseases A Department, one of the three designated hospital departments for coronavirus patients, where he was given a close-up view of how the department operates and how it can cope with the great overload. He also spoke to the department staff.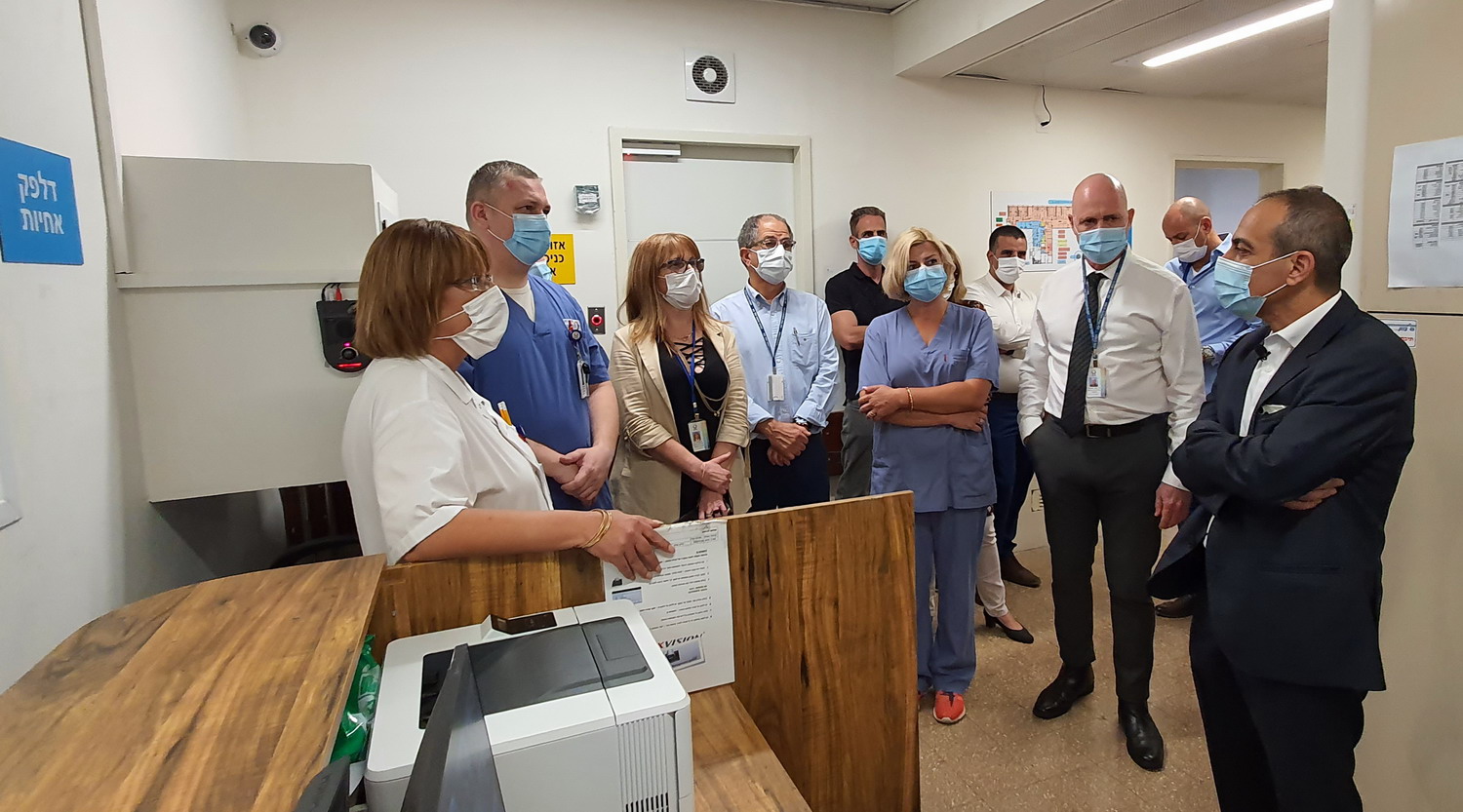 During the visit to the Infectious Diseases A Department (from right to left): Prof. Ronni Gamzu; Director of Hillel Yaffe Medical Center, Dr. Mickey Dudkiewicz; Department Director, Dr. Tatyana Michaelov; Administrative Director of the Medical Center, Dr. Amnon Ben Moshe; Director of Nursing, Ms. Dina Fainblat; Head Nurse in the Department, Alex Babat; Nursing Administration Inspector, Ms. Sara Badash
Prof. Gamzu emphasized his great respect and appreciation for the department's staff and the hospital management, for continuing to maintain their "battle spirit" without demonstrating any signs of weakness under the circumstances. He also praised the fact that the hospital has the lowest number of staff in self-isolation in the system, as well as the most advanced technological and logistical equipment in the world, which imparts a sense of security to both staff and patients.
Several more senior staff in the healthcare system were also present during the visit, including Head of the Medical Institution Development, Planning and Construction Administration in the Ministry of Health, Avi Ben-Zaken, and Udi Gelbstein from the Ministry of Health Medical Directorate.