This week the Hillel Yaffe Medical Center Ophthalmology Department added an innovative procedure and became one of the frontrunners in medicine, carrying out the first eye surgery of its kind in Israel to treat those suffering from glaucoma (intraocular pressure) in its most severe form.
"This is a new, minimally invasive operation, which enables significant treatment for glaucoma patients whose condition previously required "regular" surgery, which included lifting the conjunctiva, suturing, etc.," explains Dr. Beatrice Tiosano, Director of the Ophthalmology Department and a specialist in the field of glaucoma. Dr. Tiosano performed this surgery for the first time in Israel this week, together with Dr. Tal Eshkoli and Dr. Islam Al-Hashash. Dr. Tiosano also notes that the surgery is effective for open-angle glaucoma, the form of the disease affecting around 80% of those suffering from glaucoma in Israel.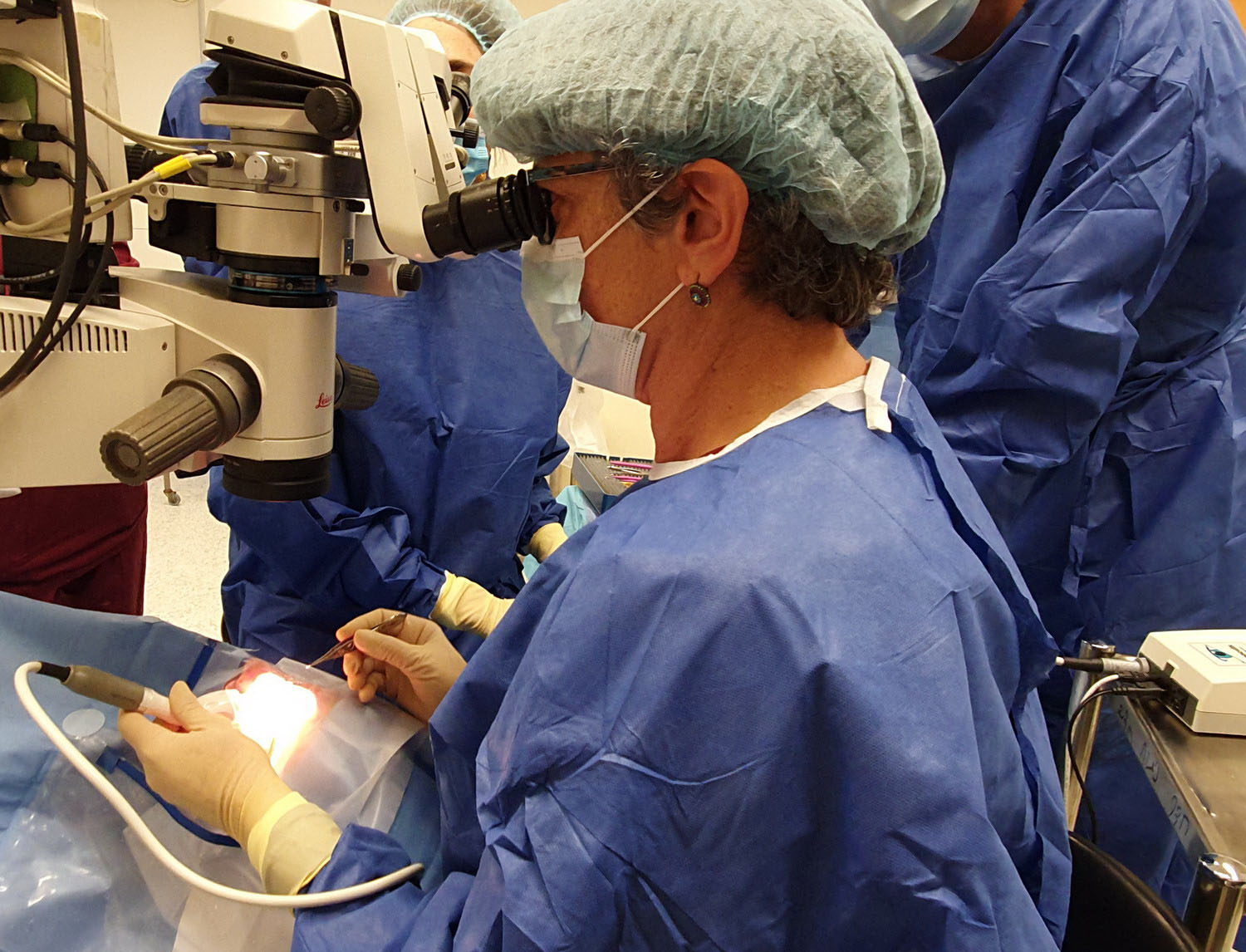 Using a Trabectome to create a permanent drainage channel for intraocular pressure. Dr. Beatrice Tiosano during the surgery at Hillel Yaffe Medical Center
The innovative technology uses a tiny Trabectome, inserted from the corner of the eye, under the conjunctiva, which creates a tiny hole of approximately 100 microns forming a permanent drainage channel within the eye tissue. This channel can be used to permanently drain the liquids which create pressure in the eye. The method renders drainage implants unnecessary and has many advantages: it is performed with local anesthesia, the operation is shorter, recovery is quicker, in most cases it does not require repeated intervention, and, of course, it averts the need for surgery to cut open the conjunctiva, fold back the sclera, and create a hole for draining liquids outside the eye – which remains the most common surgery performed by ophthalmic surgeons to treat severe cases of glaucoma. Another advantage – it can be combined with cataract surgery.
It should be noted that glaucoma is one of the primary reasons for irreversible blindness in Israel and throughout the world. It is estimated that over 63 million people (3.54% of the global population) suffer from glaucoma. The only proven treatment for glaucoma is reduction of intraocular pressure, with the goal of preventing glaucomatous damage to the optic nerve. Most patients are treated with daily medication, and some require surgery to stop the progress of the disease.