Around 25% of births in Israel end in a caesarean section. From now onwards, there is wonderful news for women who need to undergo a caesarean section for various reasons and choose to do so at Hillel Yaffe Medical Center. They can be with the newborn from birth, as part of the "Friendly C-Section" service. This service, which exists in only some Israeli hospitals, is very important to new mothers.
Studies have found that separation of mother and infant immediately after birth can damage the relationship between them and also affect the length of time breastfeeding. It is not for no reason that percentages of women breastfeeding are lower among women after caesarean sections than after regular births. This led to the optimal solution – the mother and newborn staying together from the moment of birth. These conclusions brought about the decision to enable birthing mothers who had undergone caesarean sections to be offered the service at Hillel Yaffe Medical Center, meaning – being with the baby from birth, including skin-to-skin contact and the possibility of breastfeeding in the operating room. All the above is subject to the woman's preference and her physical capabilities after the surgery.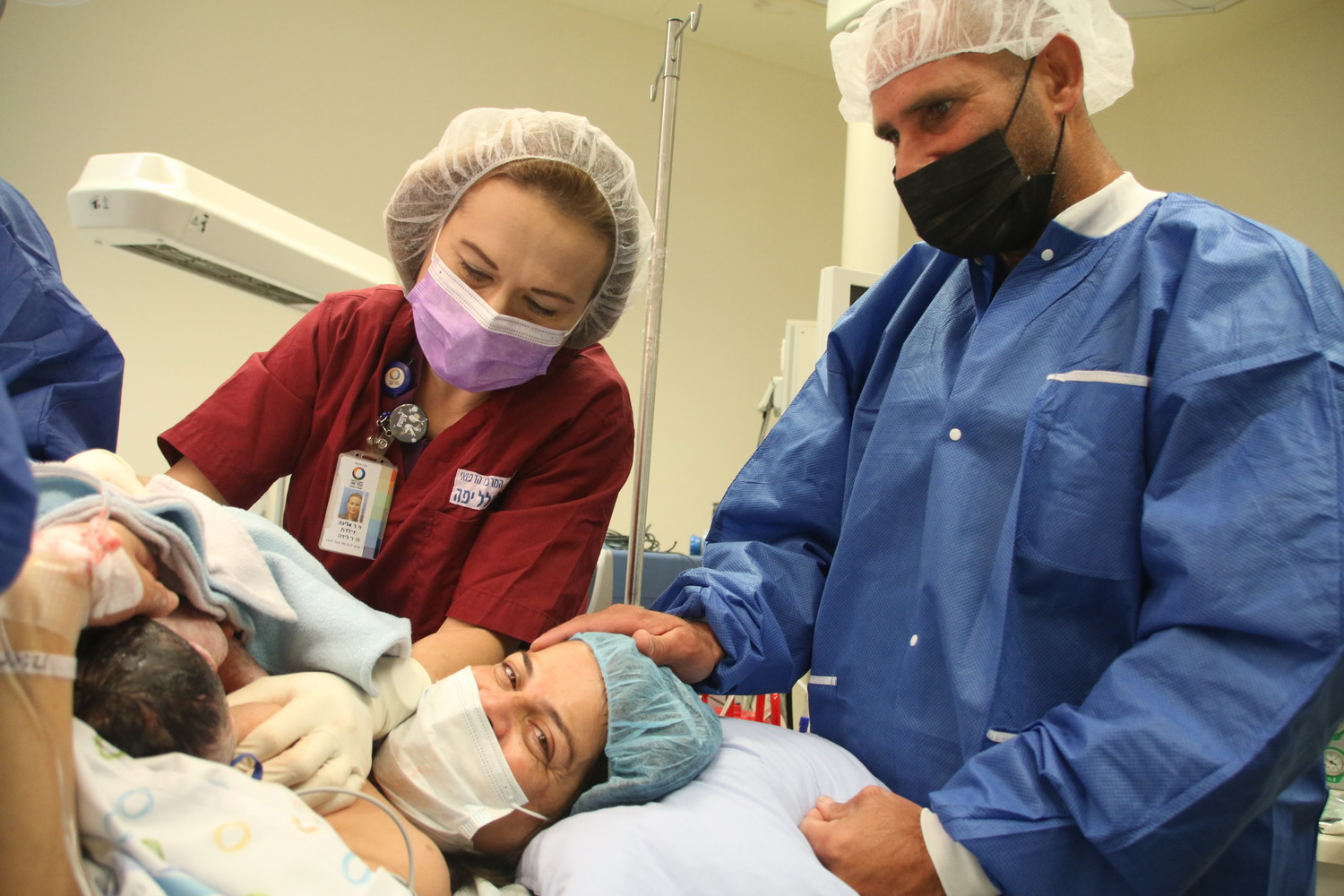 A new mother with her partner after her "Friendly C-Section" at Hillel Yaffe Medical Center

Head Nurse of the Delivery Room at Hillel Yaffe, Ms. Tanya Levy notes: "In recent years more and more women are interested in "zero separation", meaning being together with their baby from the moment of birth until they are released home. To enable such conditions also for new mothers who gave birth by caesarean section, we have begun to operate our "Friendly C-Section" service, based on our belief that being together clearly effects the mother and newborn, in both the short and long term."
For the baby, the "Friendly C-Section" service has several advantages, including less frequent crying, maintenance of steady body temperature and glucose levels, steady heart rate, breathing and oxygen saturation, as well as lower morbidity and mortality rates in light of extended breastfeeding. Likewise, it is well-known that skin-to-skin contact increases oxytocin levels, thereby aiding in strengthening the mother-child bond. In addition, early breastfeeding, taking place during the first hour after birth, contributes to successful and extended breastfeeding in the long term.
The new mother also clearly benefits from being together – mothers who had a "Friendly C-Section" reported this period as significant, testifying to the mother's emotional and psychological need to spend time with her baby during the first moments after birth. They also reported less pain, since they were busy with the newborn rather than the surgery, an improvement in their general feeling and the birth experience.