Imagine a situation in which your relative, hospitalized in the coronavirus department in serious condition and drifting in and out of consciousness, could hear you encouraging him on a personal podcast made for him by his family, when you cannot be at his bedside? Sounds good, right?
This is only one of dozens of ideas which the students of the Shenkar College of Engineering, Design and Art are currently working on developing, as part of their "Jam Week", the college's unique, multidisciplinary flagship event, which is taking place for the ninth time. Jam Week takes place annually, each time around a different issue. This event has 750 students from the college, in cooperation with design students from overseas colleges, joining together with non-profit organizations, leading industry bodies, and experts from Israel and around the world in a cooperative effort to effect change and find solutions to a specific problem. This year the issue of "loneliness" was selected, an issue which was extremely suited to the worldview of the Hillel Yaffe Medical Center regarding research and development – out of the box thinking regarding challenges in the medical system.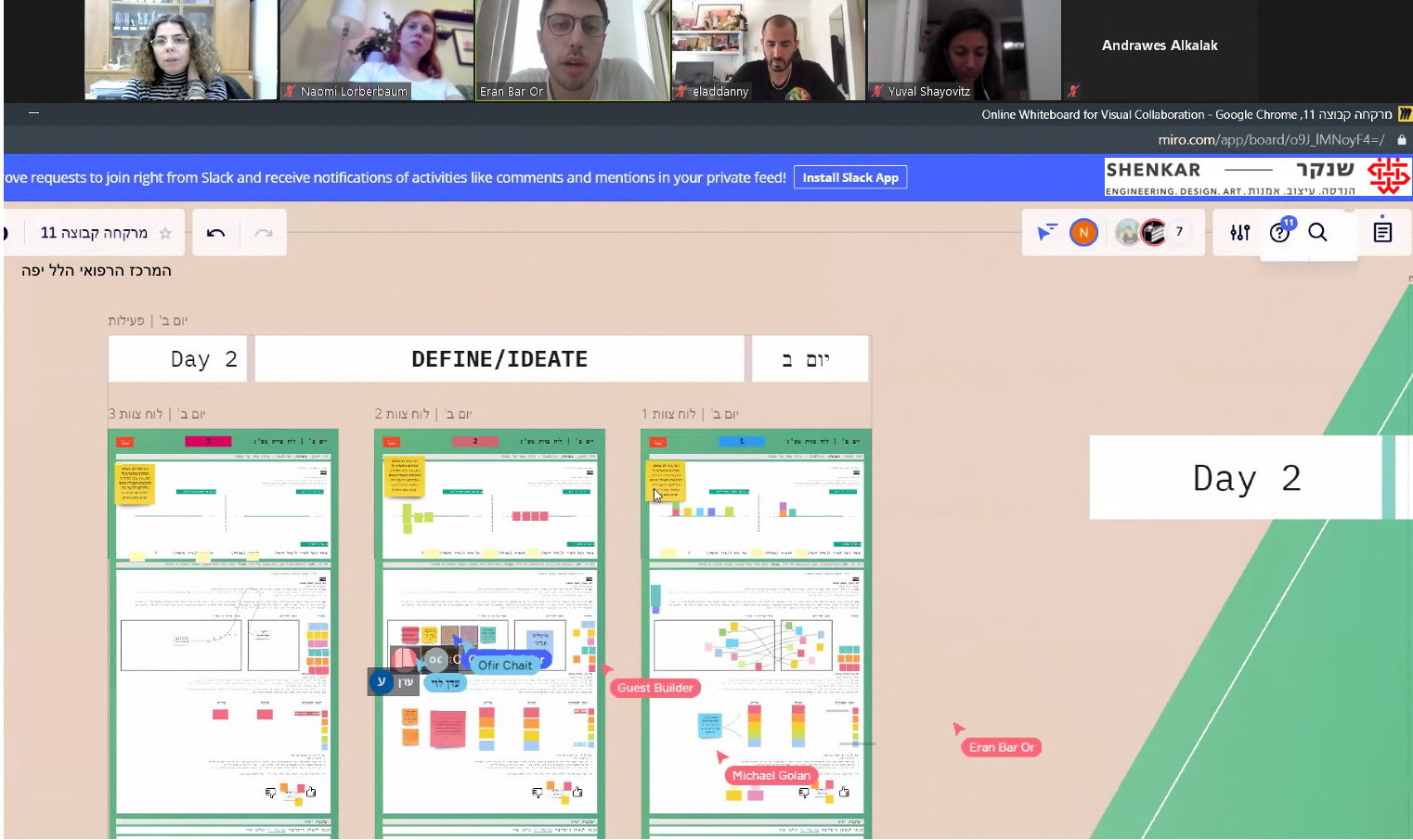 A screen shot from the Shenkar and Hillel Yaffe working group during "Jam Week"
The connection with the Hillel Yaffe Medical Center was initiated by the hospital's Physical Therapy Service Director – Yael Kirbs Cohen, who is leading the project together with a multidisciplinary staff including physiotherapists, doctors, and nursing staff. The process began with brainstorming which produced a list of "challenges" on the issue of loneliness, and related to the coronavirus departments on three planes: the patients, staff, and families of the patients. Examples of the challenges, as defined by the designated staff from Hillel Yaffe Medical Center, are helping dissipate the boredom and loneliness for patients in the departments, particularly the severely ill patients who cannot even use their cellphones by themselves; a possible solution to the problem of the protective overalls worn by the staff while caring for the patients (regarding problems including identification, treatment, and perspiration), and the connection between the families, who sometimes cannot visit the patients hospitalized in a department which is isolated due to infectious illness.
After defining the challenges, this week, as noted, a group of students began working on solutions, with members of the Hillel Yaffe staff helping them answer various questions connected with the issue, and the shared goal – of finding "out of the box" solutions.
In accordance with the solutions raised and the ability to implement them, the hospital will choose the initiatives for which it wishes to invest time and money. Staff from the hospital have described the cooperative effort as unique and particularly interesting, with it enabling solutions from a new perspective, something greatly encouraged at the Medical Center as part of the research and development activities.