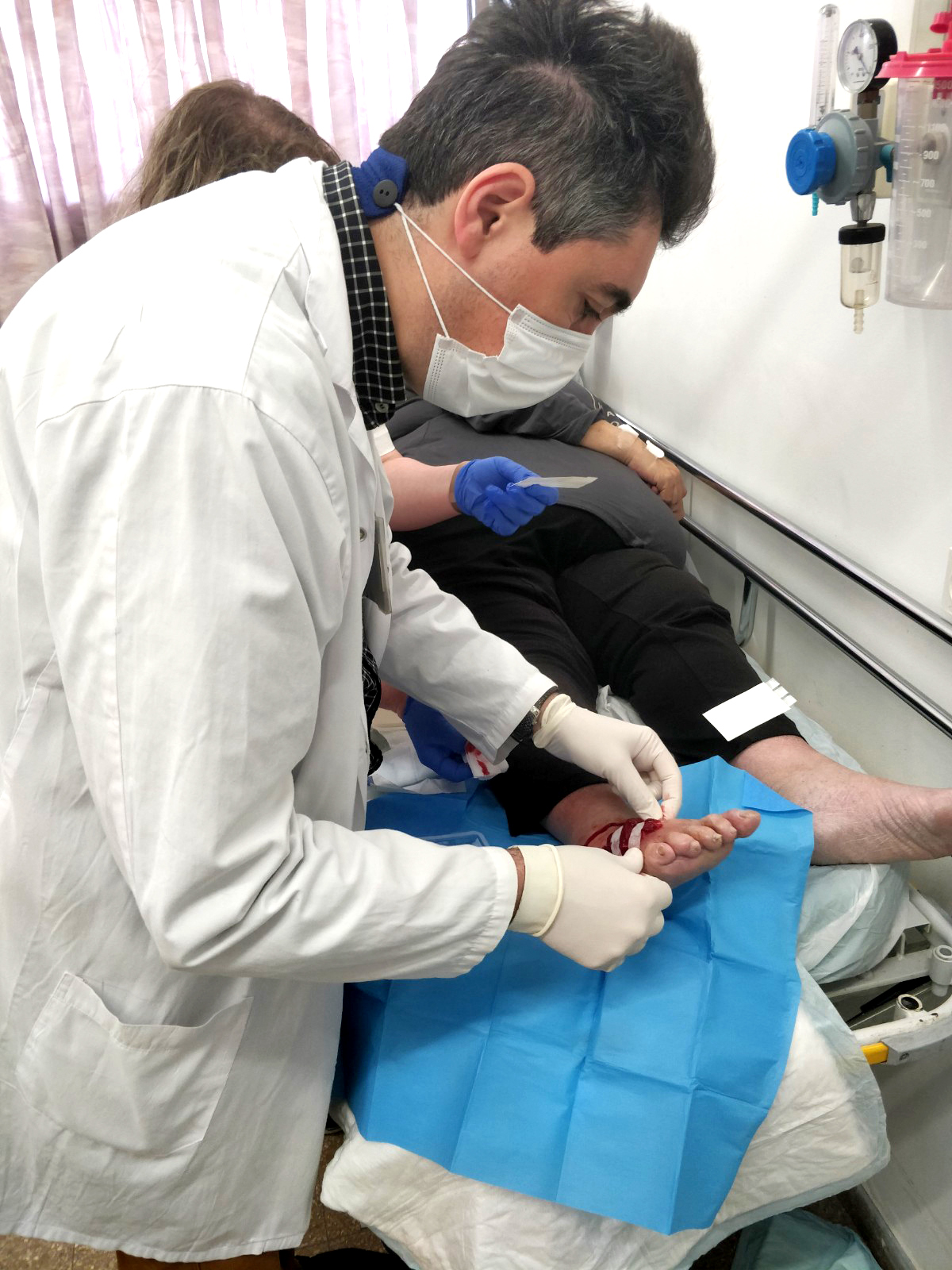 Dr. Maxim Gurevich during a post-treatment check-up at the Hillel Yaffe clinic, after treatment with the innovative bandaging
The Orthopedics Division at Hillel Yaffe Medical Center is one of the first hospitals in Israel to begin treating chronic wounds with biological treatment based on the patient's own blood. This Israeli development offers an effective and fast solution in cases of severe chronic wounds, and can even save the legs of diabetic patients from being amputated. Up until now, the most common treatment of chronic wounds was with negative-pressure wound therapy, advanced healing bandages, etc. The new treatment is based on the patient's own blood, which is processed with a special substance to create a healing blood plasma clot. The blood clot is prepared by taking a sample of the patient's blood at their bedside and the prepared platelet-rich plasma clot is placed with the bandage on the wound.
This method has several advantages: short and fast treatment, the prevention of limb amputation and surgical treatments, treatment based on the patient's own blood, a reduction in pain and does not require expensive equipment for operation and implementation.
Director of the Diabetic Foot Unit at Hillel Yaffe Medical Center, Dr. Maxim Gurevich, explains: "The steady increase in the incidence of diabetes raises the number of patients suffering during their lifetimes from diabetic foot, the primary reason for leg amputation in the Western world. The new product has special qualities to heal severe chronic wounds and is based on the patient's own blood – increasing the chance for the wound to scab to the point of healing completely. This new development serves as an effective, fast, and high quality solution for severe cases of chronic wounds, pressure ulcers, etc. We have already treated several complex cases of patients with traumatic wounds, open wounds which didn't heal as they should after surgery, as well as patients facing amputation, who were set to lose their feet, and the results were amazing."
Dr. Yaron Berkowitz, Director of the Orthopedics B Department, adds: "In the Orthopedics Division we specialize in regenerative medicine – treatment based on tissues from the patient, to heal or exchange tissues or organs with poor functioning or that do not function at all, as a result of damage or a congenital disorder, to allow the damaged tissues to renew themselves. This treatment joins a long line of additional regenerative treatments which we perform in the Orthopedics Division, including damage to cartilage and overuse. These biological treatments are the future of medicine and we are delighted to be the pioneers in the field.