A pulmonary embolism is a situation caused by sudden blockage of one of the central pulmonary arteries. This can be life-threatening since it blocks the blood flow to the lungs. Massive pulmonary embolism places extreme strain on the heart's right ventricle, which, due to its structure, cannot meet the extreme strain and therefore fails. In such cases, there is no effective blood flow to the entire body, leading to multi-system failure.
Prof. Ariel Rogen, Director of the Hillel Yaffe Cardiac Division, explains: "A pulmonary embolism can be life-threatening. The treatment possibilities in such a situation are currently limited. We have introduced technology at the forefront of treatment worldwide for patients with pulmonary emboli. This treatment joins the variety of existing possibilities available in our state-of-the-art catheterization rooms."
For the majority of patients who develop a pulmonary embolism, the embolism is mild, and the required and accepted treatment is anticoagulation medication given either intravenously or even orally. In the case of a larger embolism, more aggressive medication is needed to actively dissolve the thrombus (blood clot). In rare and acute cases, when conventional treatment is insufficient or cannot be performed, urgent surgery to remove the blood clots can be considered.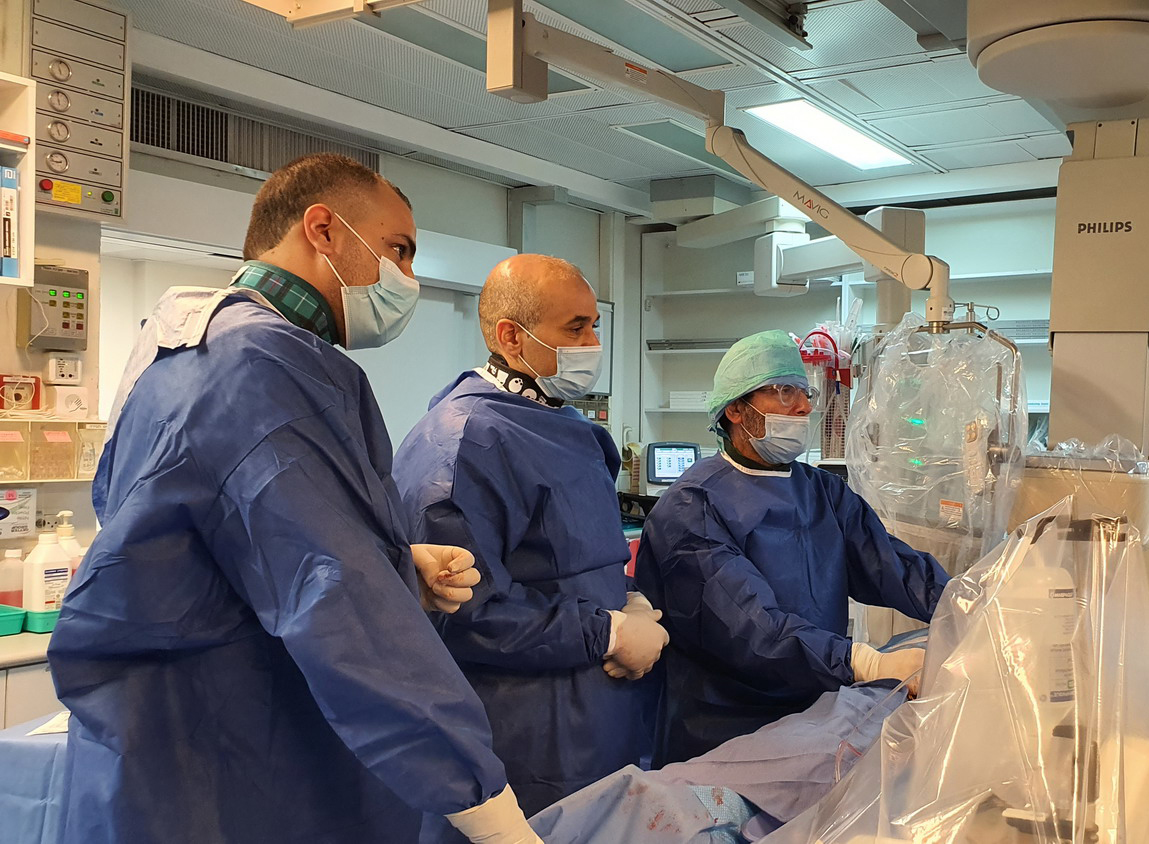 Catheterization which saves lives. Prof. Simcha Meisel (right) in the cardiac catheterization room at Hillel Yaffe
The 64-year-old patient arrived at the Hillel Yaffe Medical Center suffering from severe shortness of breath, low oxygen, and low cardiac output. A CT pulmonary angiogram confirmed the initial diagnosis of a pulmonary embolism. An echocardiogram showed that the right ventricle was greatly enlarged and with poor contraction – signs testifying to damage to the myocardium (cardiac muscle), with signs of overload and the right ventricle having difficulty in pumping blood. The patient was treated with anticoagulation medication, as usual, but due to unsatisfactory improvement in her condition, it was decided that an invasive treatment to dissolve the blood clots should be performed.
The staff which included Director of the Cardiac Division, Prof. Ariel Rogen, Director of the Intensive Coronary Care Unit, Prof. Simcha Meisel, and Dr. Majdi Saada, one of the department's senior physicians, performed an invasive, innovative procedure, which includes the use of catheters placed on the lungs with x-ray monitoring. Ultrasound transducers – which work for six hours – are implanted into these catheters, which are inserted into the pulmonary arteries, while a low dose of thrombolytic medication to dissolve the clots which were formed, is given intravenously. The procedure serves as a fast and successful solution instead of surgery.
Dr. Majdi Saada: "Undoubtedly, the treatment saved the patient's life. A few days later, her condition improved greatly and she was released from hospital in good condition. We are continuing with a clinical and imaging follow-up for the patient, and she feels great."