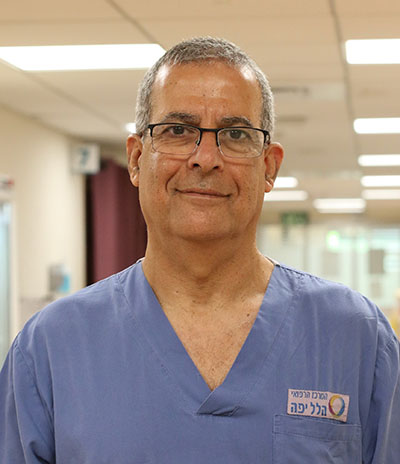 Director of Gynecology and Obstetrics Department, Prof. Motti Hallak
This week a 37-year-old woman, a resident of Karkur, arrived at Hillel Yaffe Medical Center in a state of semi-consciousness. The patient suffered from severe stomach pains which intensified to the point of fainting and semi-consciousness. She was taken by intensive care ambulance to Hillel Yaffe where she was diagnosed with massive hemorrhaging in her stomach.
Immediately after the diagnosis, the doctors on-call, Dr. Benny Feiner and Dr. Esti Maor, were summoned to the hospital and they swiftly took the patient to the operating room and began to stop the hemorrhaging. At the same time, a team of senior physicians from several departments – anesthetists, surgeons, and gynecologists, including Director of the Gynecology and Obstetrics Department, Prof. Motti Hallak, and Director of the Gynecology and Gyneoncology Unit, Prof. Ilan Bruchim – arrived.
Prof. Bruchim related that the patient arrived in critical condition. She was taken to the shock room, where she was treated quickly and operated on to stop the hemorrhaging. "Luckily, the patient arrived at the hospital in the nick of time and received life-saving treatment. The findings showed that she had an ectopic pregnancy – a relatively rare situation which occurs in around 1% of pregnancies. In most cases, the pregnancy is positioned in the fallopian tube, and in rarer cases in the ovary or the pelvic or abdominal cavity. Ectopic pregnancies are treated in light of the findings and patient's condition and medical care includes conservative treatments, medication, or surgery to remove the fallopian tube.
Director of Gynecology and Obstetrics Department, Prof. Motti Hallak, added that the patient was in a state of shock. She had significant hemorrhaging and had lost around three liters of blood as a result of one of her fallopian tubes rupturing.
The patient was hospitalized in the Gynecology Department for further treatment and observation, and released home several days later.