Approximately 13% of women report significant fear of giving birth, with all that entails. This figure includes women who have never given birth, as well as women who will be giving birth for the second or third time or even more.
There are women who will remember birth as a defining and positive moment while others will remember it as a traumatic event. Moreover, even women who have not yet experienced pregnancy may develop anxiety and fear regarding an upcoming birth. This phenomenon, known as tokophobia ("phobia of childbirth") has a not insignificant effect on the entire process of fertility and birth, beginning with avoiding becoming pregnant up until great anxiety regarding childbirth and a preference for caesarean section over vaginal birth.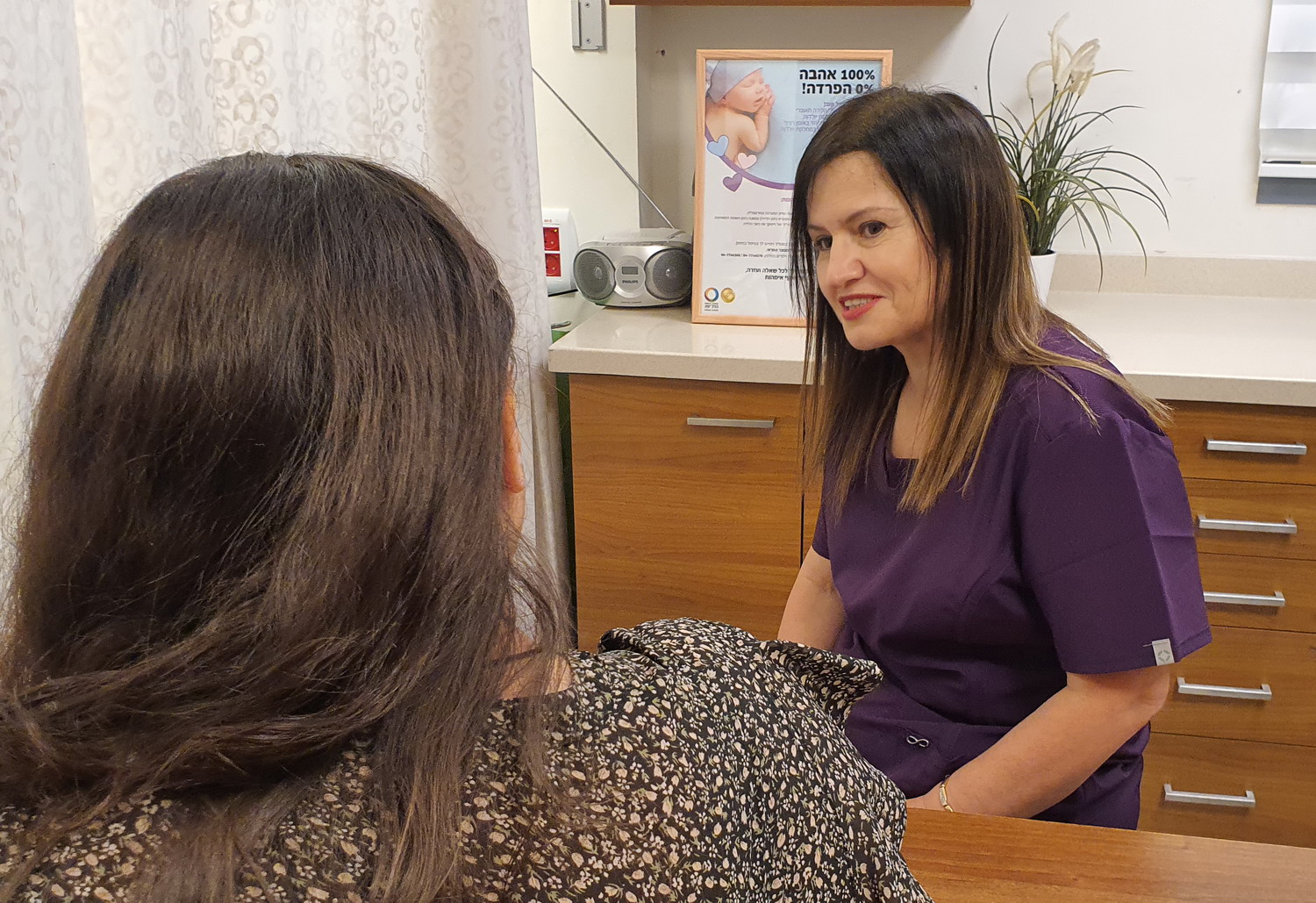 Birth processing therapy at Hillel Yaffe. Listening and inclusion for the pregnant woman
At Hillel Yaffe Medical Center, we offer pregnant women a program to process childbirth, with the goal of helping them in their complex struggle with tokophobia. "We sometimes meet women who have anxiety before giving birth, whether it is their first birth or a subsequent one. Previous births which the new mother experienced negatively can lead to PTSD among those women and also those directly around them. At Hillel Yaffe we enable pregnant women who come to us to have short-term and goal-oriented CBT – cognitive behavioral therapy, which offers a specific solution to the problem and is considered successful and effective in cases of anxiety, depression, and PTSD," explains Head Nurse of the Delivery Room at Hillel Yaffe, Ms. Tanya Levy. "Through personal sessions and individual guidance from specially trained midwives, the patients receive practical tools and techniques for self-soothing, which help them overcome the fears, symptoms, and stressful feelings which fill them."
Studies have proven that psychotherapy to change the woman's cognitive thinking patterns can reduce the intensity of the anxiety and help her adopt positive thoughts regarding the next birth. "In this context," adds Levy, "it is important to remember that a birth which the patient feels was traumatic can also effect mother-infant bonding, since these feelings can have an emotional and physical effect on the mother. Difficulties can arise regarding breastfeeding or the mother's ability to supply her infant's emotional needs. A woman who remembers her birth negatively will find it hard to prevent fear of the next birth."
If a woman is aware of an existing fear, it is best that she not keep it to herself and that she relates those fears to her partner or close environment, or even consults with a professional. The staff in the Delivery Room have no less an important role to play in providing explanations and early preparation, involving the woman giving birth in medical decisions, and providing close midwife support while paying attention to the woman's needs – all of these can certainly effect and greatly calm the woman giving birth, and thereby reduce the risk of her developing symptoms of PTSD.
Women interested in CBT and/ or processing their birth experience are invited to turn to Hillel Yaffe Medical Center's New Mothers' Club, cluby@hymc.gov.il