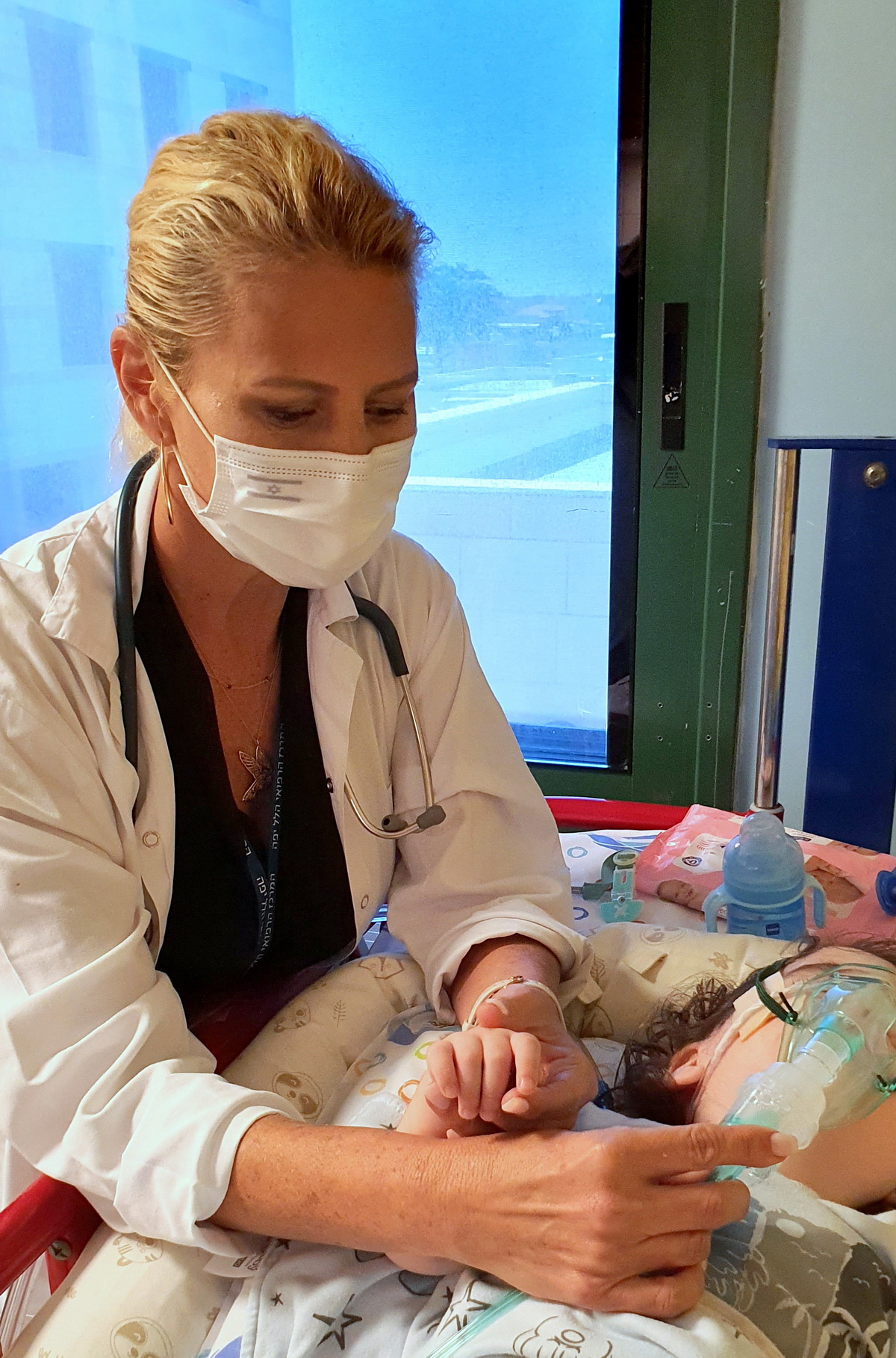 Dr. Adi Klein, Director of the Pediatrics Department, giving respiratory treatment
During the recent winter months, respiratory viruses were almost non-existent, apparently due to people wearing masks, which prevented the transmission of viruses among both adults and children. Three weeks have passed since masks have been taken off, and now there is a rise in the number of respiratory viruses among children.
Currently, the Pediatrics Department at the Hillel Yaffe Medical Center is at over 150% occupancy, mainly due to various respiratory viruses, including the RSV virus common in the winter months – November to March – as well as other respiratory viruses, which cause more serious cases of asthma in children. The appearance of the virus in June, at the beginning of the summer, is considered rare. Right now, several toddlers and children diagnosed with this virus are hospitalized at Hillel Yaffe, two of them in serious condition, and requiring respiratory support in addition to oxygen.
"The RSV virus is one of the most common viruses in children during the winter. Its characteristic picture is of a disease affecting the respiratory tract, and expressed in fever, coughing, and sometimes a mild runny nose. Likewise, severe shortness of breath can occur, to the point that oxygen is needed. The disease usually lasts for around one week, with it hitting the most severe point on the fourth day. Sometimes the regular disease is accompanied by a secondary bacterial infection, which can cause ear infections or even pneumonia-bronchiolitis. The virus is expressed more seriously in children aged two to four, or those with a pre-existing disease in the respiratory tract, as well as premature babies and children with various chronic diseases," notes Director of the Department of Pediatrics at Hillel Yaffe Medical Center, Dr. Adi Klein.
Viral diseases usually heal on their own – when the problem is a virus there is no antibiotic treatment, and the body generally overcomes the disease by itself within a few days (two to seven days). But when shortness of breath becomes more severe, particularly in infants under a year old, the pediatrician should be consulted to evaluate the seriousness of the disease.
Dr. Klein explains further: "If you notice that your baby's respiration rate is high (over 60 breaths per minute in infants up to six months, or over 40 breaths per minute in older babies), you should bring them to their doctor or even the emergency room. Also in cases of labored breathing or if the baby's skin, lips or nails turn blue or he has a high fever. Unfortunately, bronchiolitis can be a risk factor for developing chronic respiratory diseases, such as asthma."
Treatment for the RSV virus is palliative and includes oxygen and medications to open the airways, fluids and making sure to lower fever, as well as, should a bacterial infection accompany it, antibiotic treatment. "Occasionally a patient needs artificial respiration in the Intensive Care Unit. Premature babies, and babies and toddlers at high risk, are eligible for vaccination against the RSV virus, as part of the medical services basket. The vaccination is given at the beginning of the 'hot season', that is in November, and lasts for five months. As with many other infectious diseases, care with hygiene conditions and hand washing can help greatly to reduce the risks for infection. Parents need to stay alert and 'keep their finger on the button' to make sure that medical intervention, should it be needed, is given early enough," concludes Dr. Klein.