The "coronavirus year" increased public awareness of the difficult and complex work of the nursing staff. The nurses treated hospitalized patients around the clock and with incredible dedication, and often served as their friends and a substitute for their family members, who were unable to visit them. Even once the longed-for vaccinations reached Israel, the nurses were the ones to lead the vaccination program with great success.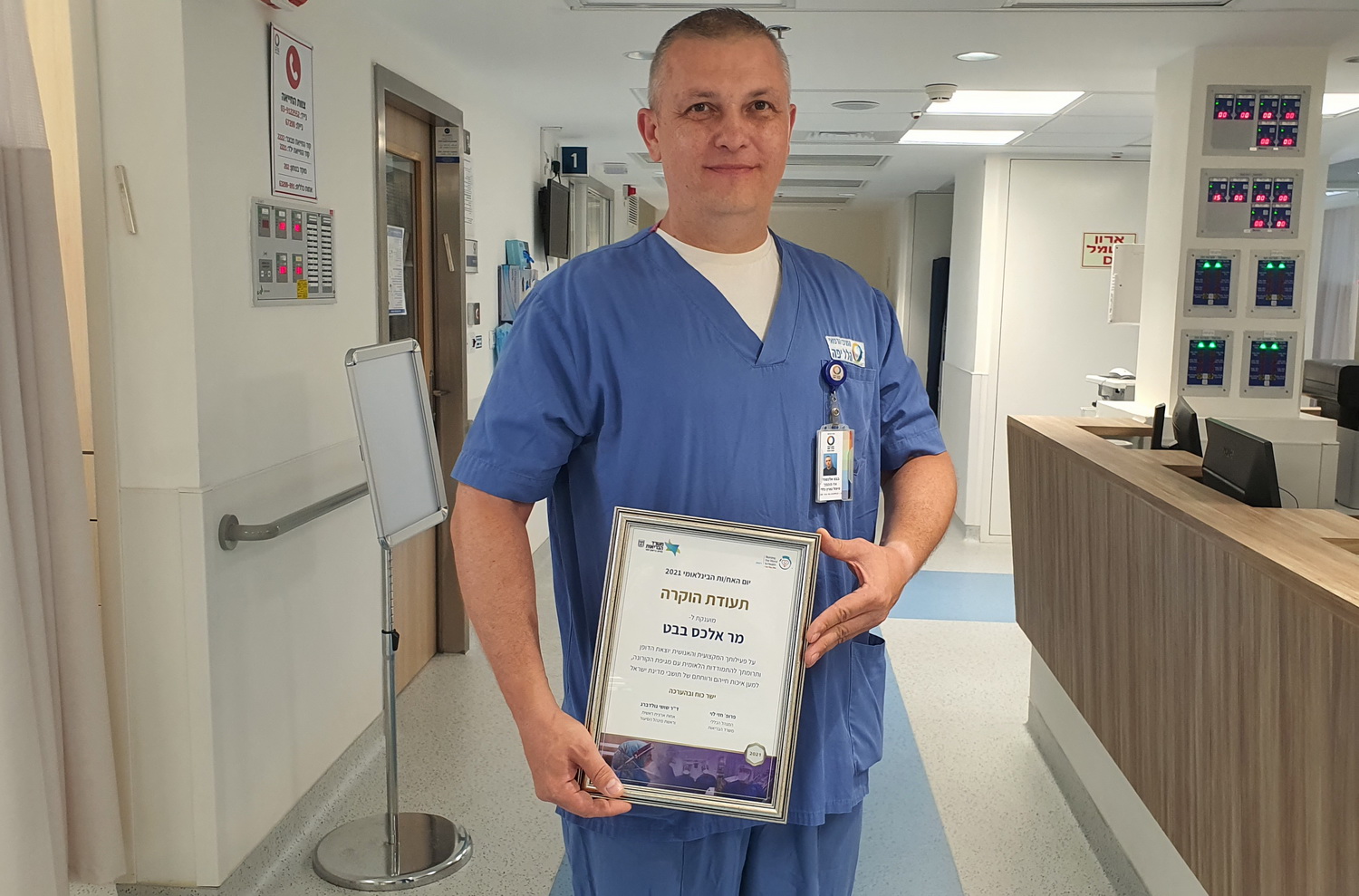 Being presented with the award for excellence. Alex Babat
The Ministry of Health chose to give an award for excellence to 40 male and female nurses from around the country, for their performance and activity in the struggle against coronavirus. One of those awarded the distinguished prize is Mr. Alex Babat, Head Nurse in the Infectious Diseases A Department at Hillel Yaffe Medical Center. Alex, a resident of Hadera, married and father of two, and a qualified nurse, was one of the first to volunteer to work in the department for patients confirmed to have coronavirus, immediately after the pandemic began. Later, he was appointed Head Nurse and was an active participant in setting up the department, which includes a coronavirus (COVID-19) Intensive Care Unit. Alex onboarded and trained a nursing staff which was created from several departments at short notice, while paying careful attention to the accepted practices, policies, and management letters.
Director of Nursing at Hillel Yaffe Medical Center, Ms. Dina Fainblat, who recommended Babat for the award, noted: "The "coronavirus year" was both challenging and complex, particularly for the nursing teams who were at the forefront of the battle. From the very beginning, Alex demonstrated responsibility and great devotion, when he volunteered himself as a nurse in the department, during the time of the concerns and fears which accompanied the beginning of the pandemic. Alex is a professional and caring nurse with a broad vision, who has succeeded in bravely grappling with the dynamics and changing, challenging tasks. Thanks to his excellent managerial abilities and wonderful communication skills with the department staff, Alex created an accepting and inclusive work environment, all of which took place under conditions of uncertainty, pressure, and crisis. Thanks to his special personality, he was able to create a staff team and provide high quality and professional treatment to the coronavirus patients, and he is therefore extremely deserving of the award."