Hillel Yaffe Medical Center's High-Risk Pregnancy Unit was decorated in white this morning for a "challah taking" ceremony. Three women who had previously been hospitalized in the unit due to a high-risk pregnancy, chose an original and moving way to thank the staff for the devoted care while also blessing and strengthening the pregnant women who are currently hospitalized in the department.
The three – Elinor Amar from Or Akiva, Etti Peretz from Hadera, and Einav Fedlon from Binyamina – gave birth at the Hillel Yaffe Medical Center, but before giving birth they spent a long time hospitalized in the High-Risk Pregnancy Unit. These women organized the ceremony and all the blessings made during it, as a way of showing their appreciation to the department.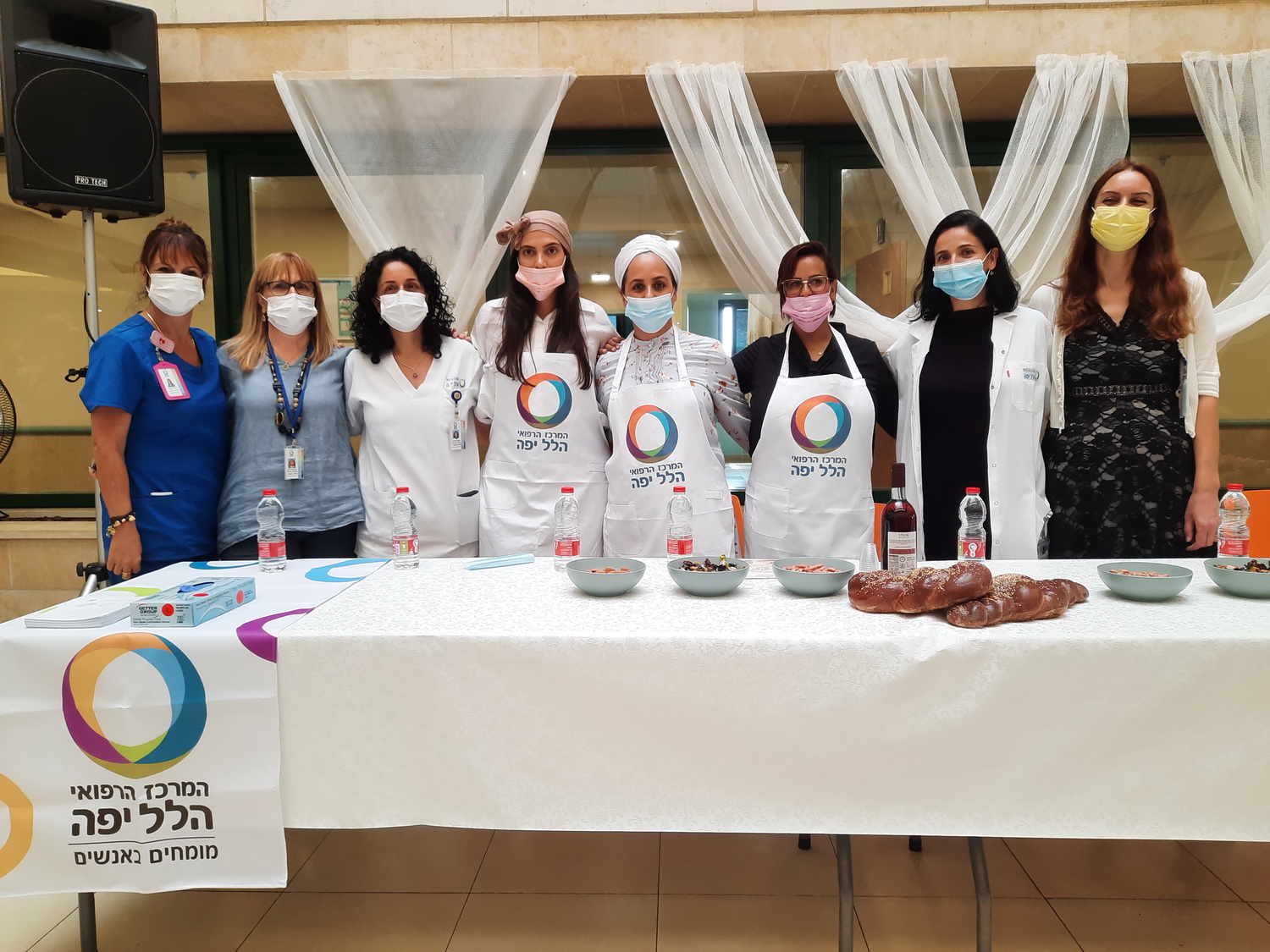 The three women who gave birth (center), together with the directors of the Medical Center and High-Risk Pregnancy Unit
The ceremony began with greetings from the hospital's rabbi, Rabbi Dovev Bindiger, who thanked the women for the opportunity to hold a challah taking ceremony at the hospital. Each of the women then told her personal story, about the difficult moments while she was hospitalized, and the support she received from the staff the whole time. This was followed by the ceremony, and each of the participants joined the prayers and blessings, and of course – baked challot. The excitement was felt everywhere.
The participants included Dr. Dikla Dahan Shriki, Deputy Director of the Hospital; Prof. Rinat Gabay Ben Ziv, Director of the High-Risk Pregnancy Unit, and Head Nurse of the Unit, Ms. Vardit Amram. They were joined, as noted, by the women hospitalized in the High-Risk Pregnancy Unit and the Gynecology and Obstetrics Department, the Department staff and hospital staff.