As every year, International Breastfeeding Week was celebrated at Hillel Yaffe in a colorful and joyous atmosphere. The Maternity Ward was decorated with colored balloons, and all the women hospitalized before and after birth received a package to pamper them, which included a box of high-quality dried fruit, a bodysuit for the baby with the slogan "I was born at Hillel Yaffe", freshening wipes, an explanatory leaflet about breastfeeding and initial infant care, and more.
The packages were distributed to the women hospitalized in the High-Risk Pregnancy Unit, Delivery Room, Maternity Ward, and the Neonatal Care Department. A range of fascinating lectures were given to the hospitalized women during the week, about subjects including physiotherapy for the pelvic floor, tips for correct infant development, and the emotional experience during the first days after birth.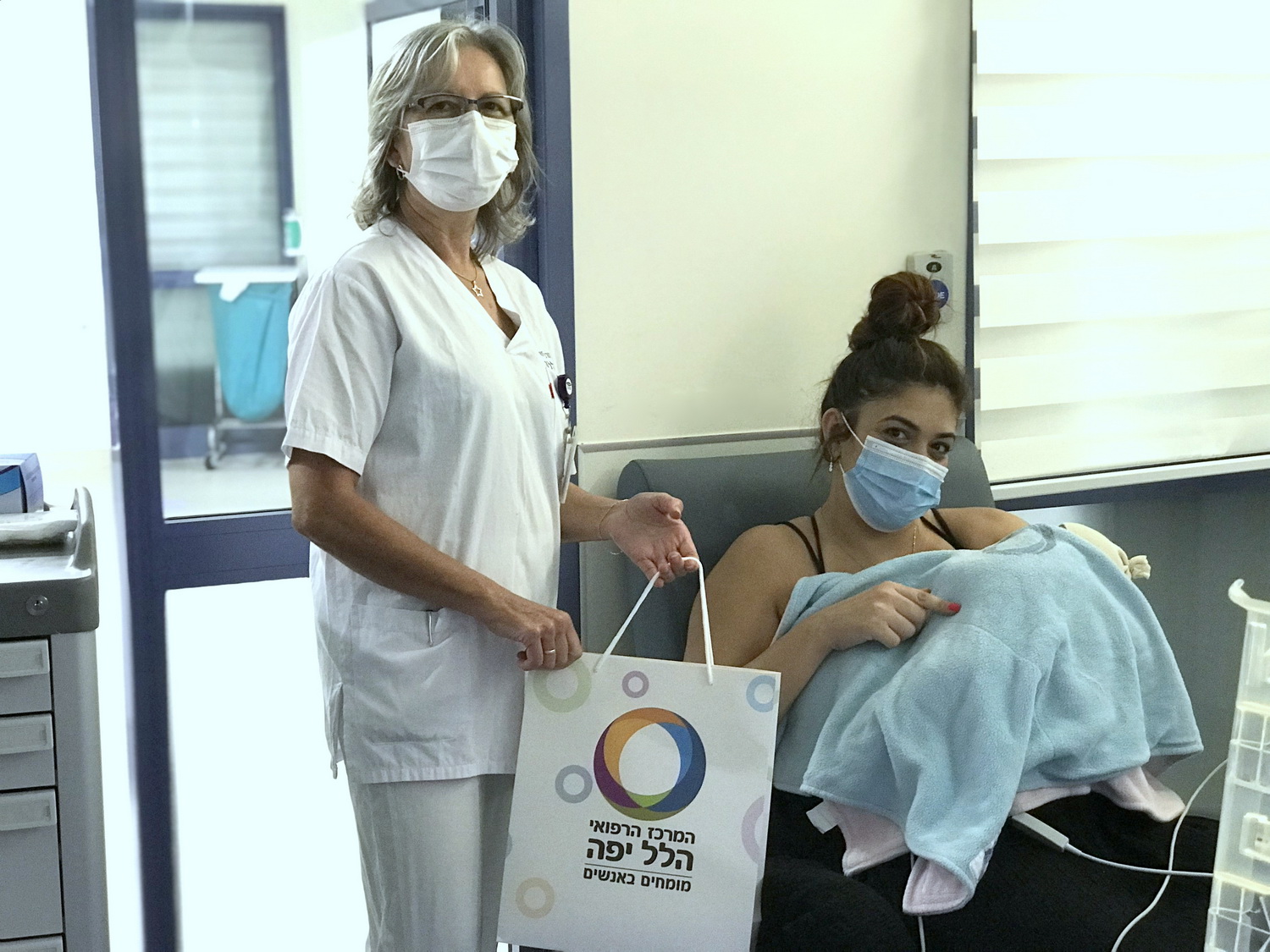 Head Nurse in the Hillel Yaffe Neonatal Care Department, Ms. Yasmin Peretz, presents a gift package to one of the new mothers in the department
The Clinical Supervisor in the Maternity Division, Ms. Orly Basis, noted: "During this week we emphasize the importance of the treatment continuum and the partnerships between the hospital and the community. The staff of the Hadera District Health Office came together with the lactation consultants from the district to the hospital, to meet the new mothers in the division. The lactation consultants who came joined those from the Maternity Division, and together they provided individual breastfeeding help to all the new mothers, so as to help them and ensure they were breastfeeding in the best possible way."
This is the place to remind everyone that mother's milk is the best food for the infant, contributing to strengthening of the immune system, particularly with the cloud of coronavirus (COVID-19) still hovering over us. For the new mothers too, breastfeeding helps contract the uterus and lose weight, reduces the chances of contracting breast or ovarian cancer, or heart disease, and also contributes to strengthening the connection and initial maternal-infant bonding.