An emotional and heartwarming visit to Hillel Yaffe – the chief rabbi of Hadera, Rabbi Yisrael Biton, came to visit the Hillel Yaffe Medical Center, together with his brother, deputy mayor of Hadera, Boaz Biton, and the rabbi of the city city center and marriage department in the Religious Council, Rabbi Baruch Fahima. Director General of the Medical Center, Dr. Mickey Dudkiewicz, and his deputy, Dr. Dikla Shriki Dahan, Administrative Director, Dr. Amnon Ben Moshe, and his deputy Ms. Drora Ben Michael, the rabbi of the hospital, Rabbi Dovev Bindiger, and Director of the Housekeeping Department, Mr. Natan Luzon, a resident of Hadera, were present at the meeting.
During the meeting, Dr. Dudkiewicz reviewed what is happening in the hospital and related about the broad development of the hospital, regarding infrastructure, purchasing new and advanced technologies, and the new medical services and those soon to be introduced. Likewise, he referenced the hospital's complex struggle with coronavirus and the fact that Hillel Yaffe is one of the hospitals carrying the greatest load, with three designated departments for COVID-19 patients.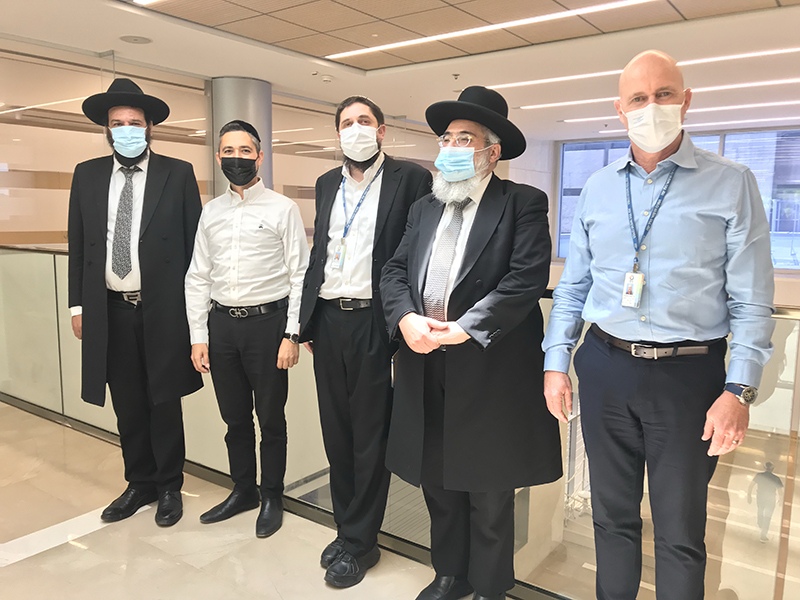 From right to left: Dr. Mickey Dudkiewicz, Rabbi Yisrael Biton, Rabbi Dovev Bindiger, Boaz Biton, and Rabbi Baruch Fahima at the Hillel Yaffe Medical Center
Later, the participants toured the hospital, including the new area of the Catheterization Unit and the new and bombproof Neonatal Care Department building which was dedicated about a year ago, during the coronavirus outbreak period. Also discussed was adapting the hospital infrastructure to be in line with Jewish law so that it will serve the orthodox Jewish population.
At the end of the meeting, the participants noted that they had been deeply impressed by the comprehensive activity at Hillel Yaffe, and both parties agreed to continue and deepen the connection, for the benefit of the orthodox Jewish population in Hadera and in general.