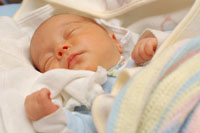 Hillel Yaffe Medical Center's Urology Department offers circumcision performed by a physician who is also a certified mohel, under controlled medical conditions, and for those interested together with a traditional religious ceremony.
The circumcision is performed under sterile conditions by a surgeon who specializes in pediatric urology.

The infant is examined and monitored before and after the circumcision.

The circumcision includes the use of a local anesthetic to prevent the baby from feeling any pain.
The service is provided for a fee.
.
For additional information and to schedule: 04-7744765
Additional Information:
Newborn and Neonatal Care Department