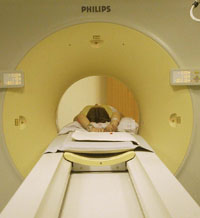 Listen to your heart. It knows what's good for you.
Come undergo preventative imaging of the heart – CT – at Hillel Yaffe Medical Center's Imaging Institute. The test involves no anesthesia, no hospitalization and no complications.
The many and important advantages to the test include:
A CT is the only non-invasive and accurate test that provides images of the cardiac arteries in their entirety.

The test is conducted using a CT scan, which is fast and MultiSlice, taking only several seconds to complete.

The test effectively and comprehensively detects sclerotic layers that cannot even be detected during invasive catheterizations.

The test enables effective follow-up following bypass surgery or insertion of a stent.

The test enables diagnosis of infarctions, tumors, pericarditis and congenital heart diseases.

The test does not require recovery time, unlike a normal catheterization.

The test is performed in a hospital setting, which provides fast and efficient support in the event of findings that require immediate treatment.
For additional information and to schedule an appointment, please call the following telephone numbers:
04-7744496
04-7744845
The test is performed for a fee and requires a referral from a cardiologist in the community or a family physician.
Additional Information:
The Cardiac Institute