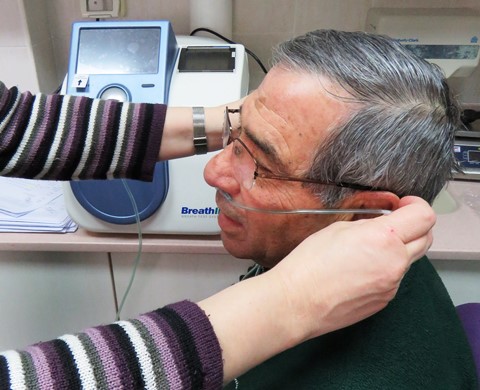 Hillel Yaffe Medical Center's Gastroenterology Institute is offering a new, effective and quick test to detect Helicobacter pylori, one of the most common bacteria in the human digestive tract, which can cause significant damage to the digestive system and the entire body.
Helicobacter pylori is known for being able to survive in the acidic environment of the human digestive system. Frequency increases with age, and it is commonly believed that up to 40% of people in developed countries carry the bacteria. In developing countries, the rate is even higher. The way the infection is transmitted is not completely clear. It may be related to poor hygiene or to transmission via saliva or feces. Most people who carry the bacteria will not develop symptoms.
Up until now, diagnosis was done through invasive gastroscopy or by blood or stool test, both of which have limited diagnostic capability. Now people who suffer from Helicobacter pylori symptoms can take a breath test and have results in just 15-20 minutes.
The test is done at the Gastroenterology Institute. The patient must fast for at least one hour prior to the test. The patient is asked to drink a slightly sour liquid (due to the presence of a substance necessary for the test). Afterwards, the patient sits and small plastic tubes are connected to their nostrils. This is how the gases exhaled from the lungs are monitored. After 15-20 minutes, a graph is produced based on the results of the test (presence or absence of Helicobacter pylori).
If the bacteria is detected, treatment includes a combination of several antibiotics together with medication to reduce acidity in the stomach. The treatment generally lasts between one-two weeks.
To schedule the test, patients need a referral from their doctor and a financial commitment form from their medical insurer/HM) (Form 17).
For additional Information and to schedule an appointment for the test, call: 04-7744480, 04-7744683, 04-7744680, Fax. 04-7744408.