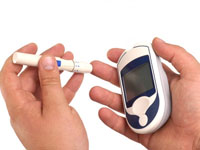 Diabetes is a result of our current lifestyle and the abundancy we have in processed food, in addition to the decrease in physical activity we practice. According to the Israeli Diabetes Association 400,000 people in Israel suffer from irregulated glucose levels.
"We are lucky," says Prof. Rafi Carraso, director of Neurology, the Pain Clinic and the Altenative Medicine Clinic in HYMC, "that conventional medicine has developed efficient technological means of dealing with the disease. However, despite the efforts, 50% of treated diabetics are still irregulated, and thus are considered potentially high-risk in developing complications, such as kidney diseases, blindness, strokes, coronary and vascular diseases, neuropathy, and even death. Also, some studies show that even patients who are regulated are liable to develop these complications as well."
Just recently the Alternative Medicine Clinic has begun to offer a new treatment service for diabetics which combines conventional and alternative treatment for easing symptoms and the deterioration of body systems.
"There are typical problems attributed to Diabetes that are not life-threatening," says Uri Puvitzer, a Chinese medicine specialist in Diabetes. "However, they do upset the quality of life. While providing treatment, we try to relieve and respond to the patients' specific complaints, which include fatigue, obesity, dryness of the throat or skin, extensive hunger, increase in urination, insomnia, neuropathy; we also assist in nutrition advice and provide long-term support."
The treatments are given at the clinic based on the 2500-year Chinese theory together with modern research. A recent British study showed a significant improvement in almost 80% of diabetics suffering from neuropathic pain as a result of Chinese medicine treatment.
Accupuncture, medicinal herbs, Tweina, etc., all play a part in the treatments we provide according to the patient's needs, his condition, and complaints – all in step with the conventional care he is receiving.
The advantage of this treatment is relieving various symptoms, aiding in preventing complications and regulating the body's function as well as promoting quality of life. Another major advantage is the hospital environment in which these treatments are provided, making cooperation between the various specialists when required much more easily accessible.
We offer this service to the community for a charge.
For further details, please contact the Alternative Medicine Clinic at: 04-6304671.