To make your child's hospital stay more pleasant, the Pediatrics Department is equipped with a study center and game area that offer a wide variety of activities, including distance learning, reading, computer games, arts and crafts, and more. Teachers licensed by the Ministry of Education conduct the activities.
Inpatients who are bedridden may borrow a laptop and any other equipment for the duration of their stay.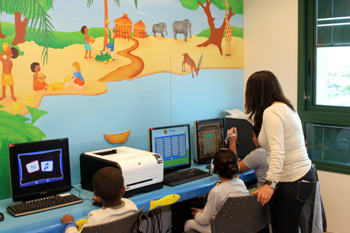 Internet terminals with games and children's software
Important:
Activity in the classroom is for children ages three and up.

The opening and closing times of the classroom will be posted on the door.

Patients hospitalized for more than five days may work with the teacher to catch up on material.

Registration for the classes is done every morning by the teacher during morning rounds.
*For the convenience of the patients and their families, the Department offers free WiFi.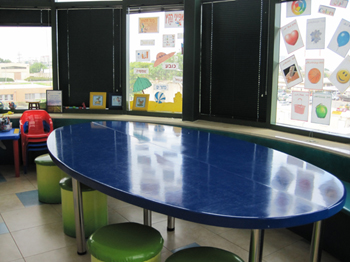 Arts and crafts and work room for children
Study Center Management
Study Center Director: Ofra Avergil
Study Center Consultants: Vered Navat
Psychologist: Amir
Study Center Volunteers
Dina Yagar - Volunteer - Science Teacher
Rivkale Schwartz - Volunteer - Ceramics Class
Noya Dadon - National Service Volunteer
Paramedical Staff
Tamar Dvir - Movement Therapist
Tzipora Mizrahi - Art Therapist
Iris Cherniski - Music Therapist
Peter Magorski - Chess Teacher
Gila Tzavhon - English Teacher
Dvora Navon - ICT Teacher and ICT
Coordinator Teachers
Corinne Weizmann - Learning Disabilities and Math Teacher
Jihan Abuhasin - Arabic Teacher
Rikki Rotemberg - Science Teacher
Moran Tam - Drama Teacher
Yanai Gidron - Robotics Teacher
Clowns
David Berman
Orna Ashkenazi
Amit Nagdiman